this

week
Seeing

Red

For my part I know nothing with any certainty, but the sight of the stars makes me dream...
What happens when you travel the world only to see what you've missed? On the eve of the German occupation of France, artist Emile Bernard is planning one last trip. As he prepares, he recalls his friendship with Vincent van Gogh and his rivalry with Paul Gauguin. He looks down the roads not taken and finally hears what Vincent was trying to say.
The title refers to "the feeling of anxiety from which some of my companions in misfortune suffer, and which is called 'seeing red,'" as Vincent put it.
Starring Jim Stark as Emile Bernard, written by David J. Loehr and directed by Wanda McGuire, presented live from the Center for Fine Arts on the campus of Hanover College, Friday, March 9, 2012 at 7:30 pm EST. See it in person or watch online at NewPlayTV.
Originally commissioned in 2008 by Emmanuel College in Franklin Springs, Georgia, this production has also travelled to the South Carolina Repertory Company on Hilton Head Island.
---
previously
on
A. D.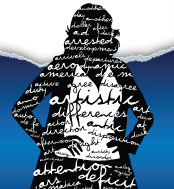 She is women. Hear them roar.
Attention deficits, afternoon delights, American dreams, artistic differences...as the saying goes, attention must be paid. The world is turning faster and faster, getting smaller and smaller every day. How can we keep up? How do we sort the information from the noise? Can we cut through the static anymore? Do we even want to?
Annie Huey starred in the Madison and Chicago premieres of A. D., written by artist-in-residence David J. Loehr, directed by Jim Stark.
Picked by the Washington Post as one of "six intriguing picks" at the 2009 Capital Fringe Festival. "Loehr's last show just hit me to the core...can't wait to see what he does for an encore." -- Mike Riley, Washington Post
watch us
at work
The Media

Vault

Click here to see footage of Riverrun onstage. Now updated to include What Song the Syrens Sang from last April at Actors Theatre of Louisville, as well as A Report of Gunfire and a musical performance by company member Tamara Dearing.
click here for our production history
---
think artistically,

act locally
Support
the Arts
The Riverrun Theatre Company is a 501(c)3 non-profit public charity. We thank you for your support.